Nonviolence
Papers presented at the Park of Study and Reflection Attigliano (Italy) during the Symposium Foundation of the New Civilization, held between 28 and 31 October 2010.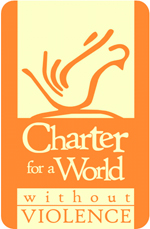 This document is the result of several years work of Nobel Peace Laureates and Organizations. It was approved at the 7th World Summit as the "First Draft of the Charter for a World without violence". The final version of the Charter was approved by Nobel Peace Laureates and Organizations at the 8th World Summit of Nobel Peace Laureates.
[ Fulvio de Vita. 2009 ] The crisis we are going through pervades all the realms of human action. This crisis has been given different names: economic crisis, intercultural crisis, energy crisis, crisis of values, spiritual crisis…
But I think that it is important to note that behind all these crisis, there is a violent attitude by which many individuals and institutions tend to face the deep changes that are occurring in our time.
Slide representation about the Space of Representation, by Silvia Swinden, psychiatrist.