Text
IV Symposium of the World Centre of Humanist Studies
In this time of great changes, individuals, institutions and societies are in crisis. We are going through times of urgency and possibility.
The paradigms we have been living by do not longer provide suitable answers, and the future is not entirely at sight yet.
Fast transformations wipe away the social landscape in which the preceding generations grew up, creating abysses of incomprehension and insecurity. The old world is already gone, but the new one is still to come.
Papers presented at the Park of Study and Reflection Attigliano (Italy) during the Symposium Foundation of the New Civilization, held between 28 and 31 October 2010.
WORLD CENTRE OF HUMANIST STUDIES
II WORLD SYMPOSIUM

Foundation of the New Civilization

October 29th to 31st, 2010
The world we knew does not exist anymore; our daily lives have been deeply transformed. A new way of being begins to take shape for Humanity: the first planetary human civilization. How will it be? How do we want it to be?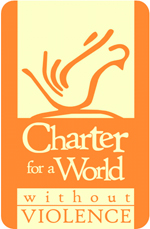 This document is the result of several years work of Nobel Peace Laureates and Organizations. It was approved at the 7th World Summit as the "First Draft of the Charter for a World without violence". The final version of the Charter was approved by Nobel Peace Laureates and Organizations at the 8th World Summit of Nobel Peace Laureates.
[ Fulvio de Vita. 2009 ] The crisis we are going through pervades all the realms of human action. This crisis has been given different names: economic crisis, intercultural crisis, energy crisis, crisis of values, spiritual crisis…
But I think that it is important to note that behind all these crisis, there is a violent attitude by which many individuals and institutions tend to face the deep changes that are occurring in our time.
Tomás Hirsch (Chile)*
At present relationships between ethics and politics are really complex and even tortuous. So much so both seem to be opposite and apparently incompatible universes. Almost every human activity has a well defined ethical code: there is a journalistic code, a medical one, and so on to every one different activity human beings must develop along life.
Rodrigo Carazo (Costa Rica)*
The american continent means a new horizon for the people of all the other regions of the planet: this is why it has become the major crucible of races, believes, cultures and languages of the world. The diverse origin of the inmigrants has turn the American Continent into a non-comparable human tile.
Fernando Garzón Orellana (Ecuador)*
In the origin and development of human communities, violence has manifested itself as an instrument to conquer the community of nature, and of some human groups against others, dominating them by military conditions, slavery, exploitation or political imposition. The superior state of the human being is peace, in its conscience, spirit, and its social environment and natural surroundings.
Acad. Boris Koval
Two decades went by from the moment in which the ideas of New Humanism took roots in Russia. Till that moment, the official ideology of Bolshevism ruled over for 70 years. Human being existence, its consciousness, morality and everyday activity had not an essential meaning and were not regarded as a goal, but as a means for the construction of socialist order. In the focus of attention was not the human being, but the State, more precisely, the bureaucratic party leadership.
Aprendizados na tarefa de orientar: ativistas pela não-violência trabalhando para entender identidades no Movimento Humanista. Sabine Mendes Lima Moura. Dissertação apresentada como requisito parcial para obtenção do título de Mestre pelo Programa de Pós-Graduação em Letras da PUC-Rio.